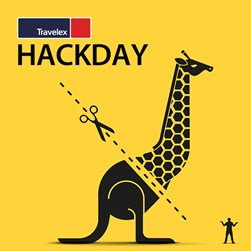 If innovation lies at the heart of Travelex, our people are the blood running through its veins...
Emerging triumphant from the smoke of Hack Day 2017 were a team of enthusiastic Travelexers: each committed to delivering the solutions our customers are crying out for, and truly setting us out as a trailblazing, digital-first brand.
What is Hack Day?
Put simply, Hack Day is a Product and Engineering event dedicated to tackling those hard-to-reach business problems that always get shelved when things get busy: anything from a product issue to simply developing a more efficient way of working.
This year, 17 teams went head-to-head, fighting for the glory of being named the Master Hackers. A judging panel of seasoned industry experts scrutinised each pitch to pick most innovative contenders.
And the glory?
Below are just a few of the inspiring team hacks that caused a stir with our judges:
The Cut yourself some slack team scored a formidable joint-second place for reinventing our internal customer response processes on Slack, seriously improving the way we react to product issues. They built Wadsworth, a chatbot designed to make your support life easier.
The team said: "The major difficulty with building Wadsworth was in knowing where to stop: every feature we built spawned two more ideas for new features or enhancements. It's fair to say that Wadsworth will fast become a staple in the Travelex toolset".
Ducky Goes Hard – a team of Travelex hack ninjas based in Sofia – brought gamification into the way foreign currency is ordered online to create a more engaging customer experience. This fun and user-friendly mobile app for harvesting purchase-led rewards would drive customer engagement through the roof.
Ducky claim "Collecting points, awards and unlocking achievements is what puts Travelex right in the game. Lead by the expertise guidance of a friendly bot, our users get tutored in the craft of spending money and staying happy. Travelex is changing the rules, not the game!"
Ambitiously named HackWinners presented live from Mumbai where they successfully executed automated deployment of Retail Trading System Application (RTS) through a tool called Ansible. This clever hack can help secure considerable improvements in costs and ability to release RTS quickly to over 1600 desktops at Travelex Stores globally. 
Commenting on what inspired their hack, the team added "Relieving developers from the pain of late night production deployment is something that inspires us to commit to our work. We're here to make the deployment process simple and easy!"
The Capybaras team (inspired by the largest living rodent in the world, we're told) repurposed Google Assistant as an easy way for teams to stay organised on the amount of traffic and work item requests in the queue to be completed.
Bringing a little entertainment to 9 to 5s the world over, the Capybaras asked "Who said that improving productivity can't be fun?"
And finally, we couldn't end here without a shout out to our double-award winning team, whose arms were surely aching under the weight of two Hack Day trophies. Worthy winners of the judges' top hack and the People's Choice Award…it's Murmuration Exaltation!
The idea was to connect Travelex Wire to a Starling mobile bank account, bringing customers a super simple, fast and convenient way to communicate between the two. The team set up a new Wire account and transferred £1,000 abroad within one minute – certainly faster than the crow flies.
Here's what the winners had to say "Our motto was 'let's just wing it' – and once the idea had flown the coop, we hoped to win the prize without any fowl play".
We're already looking forward to HackDay 2018 where we'll open our doors once more to the industry's budding talent and brightest bulbs, all competing for true hacker glory. Watch this space.